Metal stitching is a unique emergency repair method of repairing cracks or joining pieces of broken cast metal components without welding. Information on the repair process and its advantaged are covered in this article.
Cast iron is the most difficult of all common cast metals to weld. All electric welding methods for cast iron have proven to be less than satisfactory and in many cases have created even more cracks. In view of this, Metalock process originated in the oil fields of Texas in the 1930s and is now recognised and used throughout the world. Cold casting repairs carried out by Metalock are superior to welding in the case of crack sensitive materials.
Repair Procedure
Various steps for carrying out repair are as under.
The fracture is positioned, realigned and firmly held together by special fixtures and clamps.
Jigs are used to drill groups of holes across the line of fracture to the depth of the casting and the holes are joined to form shape of Metalock Key.
Individual layers of Keys are inserted in the apertures and peened into a metal to metal condition, which becomes almost integral with the parent metal of the component under repair.
Holes are then drilled along the line of the fracture, tapped and filled with studs. Each stud is fitted biting into its predecessor resulting in a pressure tight joint. This is the main part of the process in which the crack is replaces by the stitching studs.
The surface is then peened and excess material is removed.
The repair is complete and component generally does not require further machining.
Pictures showing the Metalock Process from the web site of Metalock are reproduced below. Their website address is http://www.metalock.co.uk.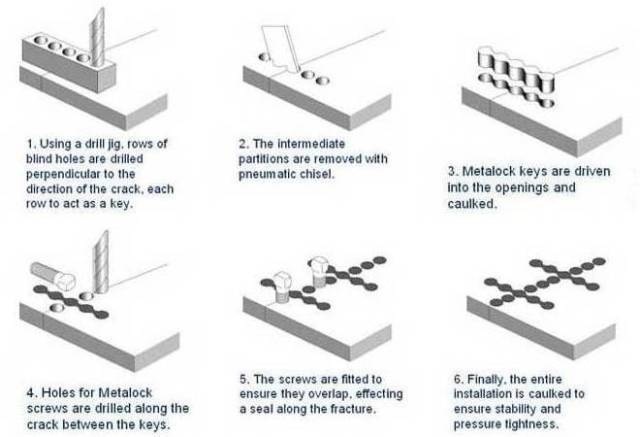 A pump casing repaired by Metalocking is shown below.
Advantages
The Metalock repair process is used successfully and recognised by the Classification Societies. In many cases the equipment gives many more years of productive service after repair. The advantages of the process are as under.
Cold repair can be carried out to castings of cast iron, steel and non ferrous alloys.
Many repairs can be carried out onsite with minimal or no dismantling.
Downtime of equipment is minimized as the broken pieces can be put together to maintain alignment and original surfaces with little or no machining requirement.
A pressure tight seal can be achieved due to the interlocking between Metalock keys and studding.
Since the repair is done in a cold state, there is no distortion and residual stresses are not introduced.
The Key design is such that the load is gradually transferred from the Key to the casting. This helps to dampen mechanical vibration and provides an expansion joint when temperature fluctuations occur.
Service Providers
First formed in 1953 by 14 companies who recognised the unique engineering potential of the Metalock process, Metalock International Association having Association's headquarters based in the U.K. now has over 70 Member companies to provide worldwide service to the marine and industrial world. For more information please visit their website – http://www.metalockinternational.org
Metalock Engineering UK Ltd is providing service in India also. For more information please visit their website – http://www.metalock.in
Engine Clinic & Service Engineers Pvt Ltd. Ambattur, Chennai is a Metalock International Association's member company in India. For more information please visit their website – http://www.engineclinic.com
LOCK-N-STITCH Inc. specializes in all aspects of the repair by metal stitching process. They provide repair services, training and supply material. For more information please visit their website – http://www.locknstitch.com